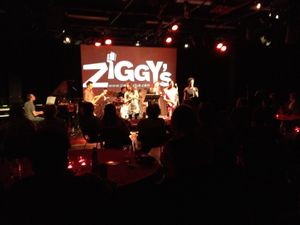 Sep 29th | Ziggy's Presents - LAUREN BUSH quartet
"OUTSTANDING IN ALL RESPECTS.." ★★★★London Jazz News
"Highly and unreservedly recommended" Jazz Journal
Known for her charming delivery of a lyric and her impeccable time, 2016 Sarah Vaughan International Jazz Vocal Competition finalist, Lauren Bush is a contemporary Canadian jazz vocalist based in London, UK.
"Bush is one of the freshest and most exciting vocalists to appear on the scene for some time." and Downbeat Magazine commented on "her unique phrasing, perfect diction and scatting abilities."

Her 2016 debut album, All My Treasures, comprised of 12 favourite jazz standards, was produced by jazz luminary Ian Shaw and met with critical acclaim. With quirky and refreshing arrangements, Lauren is able to show off her versatility and improvisation skills in the up-tempo songs 'Sweet Georgia Brown' and 'I'm Old Fashioned' while impressing with her sultry phrasing and dusky range in the ballads like 'Detour Ahead'.

Originally from Canada, Lauren started performing while living in Texas, USA. She performed extensively around the southern states including several jazz festivals and opening for legendary Maynard Ferguson. In 2012, she took the plunge and relocated to London, where she has since been developing her reputation across Europe, touring extensively.
Critically accalaimed new Album DREAM AWAY IS out now
Booking
£20