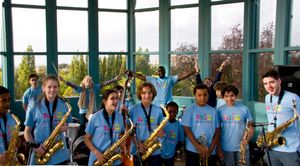 Ziggy's World Jazz Club aims to promote and nurture young artists, musicians & youth music projects at special events and festivals throughout the year. 
Ziggy's programmed "Spellbound" Edmonton Festival 2013 starring Mica Paris & Edmonton Summer festival Big Top 2014 featuring UK soul legend Omar & a host of talented artists and musicians. 
Ziggy's collaborated with National Youth Jazz Orchestra students for 'Ziggy's Jazz RiZing' projects 2014 to 2017 featuring over 50 young musicians from NYJO Jazz Academy 
Ziggy's programmed the music stages for Enfield Christmas festival 2013 in Enfield Town and Ziggy's Folk-World Connections stage at Enfield Town Autumn Show Big Top 2014 Featuring many Enfield based young musicians and music projects, songwriters and performers along side professional artists. 
Ziggy's currently maintains strong links with The Royal Academy and Guildhall Jazz departments
Tell your friends about Ziggy's World Jazz Club curated by Josie Frater & Steve Taylor